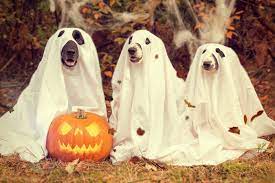 Does Halloween cost too much, and leave behind a mountain of garbage? Organizing a costume swap is a fun way to encourage a cheaper and cleaner holiday. You may wind up with a fabulous costume for free, and some new friends to eat your candy with.
Check your local library. Depending on where you live, your library may already be doing all the work for you. Many libraries across the country sponsor events in the fall where all you have to do is drop off the costumes you and your children wore last year, and show up for the swap event if you want to shop for replacements. Check the website, and ask your librarian if your community would be interested in joining the trend. Of course, it helps if you're willing to volunteer.
Put on your own event. Organizing your own costume swap may be easier than you think. Decide if you can afford a paid venue or if you need free space. Good options may include local schools, churches, shopping malls, and community centers. On a smaller scale, you could even use your own garage or backyard. Gather the essential resources you'll need including volunteers, clothing racks, tables, and chairs.
Cover the details. To encourage traffic, you'll need some publicity and signage. Put up flyers and post notices on social media and community bulletin boards. Consider having additional activities to keep children amused like bobbing for apples or face painting booths. Announce any rules like requiring costumes to be in new or excellent used condition, and setting limits on how much each individual can take. You may also want to collect donations for a worthy charity, and donate any leftover costumes to local schools or amateur theaters.
Celebrate this Halloween with an economical and eco-friendly costume swap. A local Game of Thrones fan may love the homage to Hodor that you wore last year, and you'll both feel good about creating less post-holiday waste.